IN the UK, USA and EU there have been a total of 40,289 deaths reported following the shot (measured in the same way Governments state general 'covid deaths'). 15,386 fatalities in the USA, 1651 in the UK and 23,252 in the EU as of 30th September.
There have also been several million 'adverse events', many of them extremely serious involving young people and pregnancies. Needless to say doctors and other vaccine administrators did not warn people of these before injection. Pregnant women have been seriously misled. In normal times the NHS advises "Most medicines taken during pregnancy cross the placenta and reach the baby." But strangely they are not warned about the dangers of these unlicensed, experimental gene therapy "vaccines":https://theexpose.uk/2021/09/08/everything-the-government-and-nhs-have-forgotten-to-tell-pregnant-women-about-the-covid-19-vaccines/
Once again the correlation between falling vaccination rates and falling cases is being demonstrated in the UK. After the vaccination rate pick up between 7/8/21 and 25/8/21 there was a big increase in cases between 5th August and the 10th September.
But now after the fall in vaccination rates from 68,076 on the 25th August to 27,229 on 11th September we see the beginning of a fall in covid cases. Taking cases announced on the same day one
week apart (for fair comparison):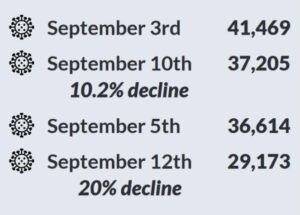 I predict therefore that the daily case rate will now decline in the UK – unless this disgraceful government continues ignoring scientific advice and presses on with injecting children.
We have tended to concentrate on the relationship between rises and falls in injections and cases but equally disastrous (considering government assurances that although the shot cannot prevent covid it can reduce deaths) is the rise in deaths following the programme.
The UK deaths from covid looked to have reached a peak on December 16th 2020 (613 deaths), but then the trials really got going and by January 20th 2021, daily deaths had reached 1,824 (it is still a record today).
Deaths in summer 2021 after 6 months of the vaccination programme are many times higher than last summer. The BBC quoted Boris Johnson as saying that "75% of the people who are succumbing to covid are still not vaccinated". This certainly promotes the BBC line and the Government's – but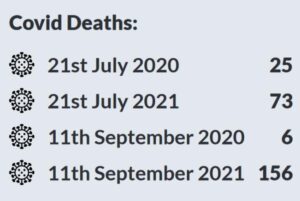 it is untrue.
Public health England statistics show that from 1st February 2021 to 29th August 2021 there were 1,798 covid deaths. BUT 1,091 (60.67%) of those deaths were fully vaccinated people (a further 10% were partially vaccinated) while 536 were unvaccinated.
There has been massive media censorship of the disastrous effects of the shots, deaths and adverse reactions, with a nasty manipulation of news which concentrates entirely on personal stories of the unvaccinated who fell ill and died of covid – but never the truth about the thousands of healthy who died from the shot.
In May, Canadian vaccine researcher and viral immunologist Byram Bridle, of the University of Guelph, Ontario, warned listeners of a podcast that nursing babies whose mothers had been injected
were at risk of getting covid spike proteins from her breast milk. Bridle said that "any proteins in the blood will get concentrated in breast milk," and "we have found evidence of suckling infants experiencing bleeding disorders in the gastrointestinal tract" in VAERS.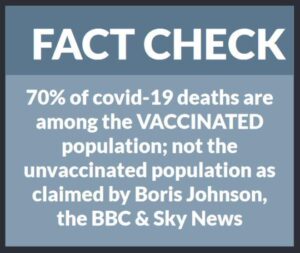 A six-week-old breastfeeding baby became inexplicably ill with a high fever after his mother received a covid-19 shot and he died weeks later with blood clots in his "severely inflamed arteries," according to a vaccine adverse event report.
An unidentified 36-year-old woman from New Mexico said she received a first dose of Pfizer's covid-19 jab on June 4, 2021 when she was breastfeeding her six-week-old infant son, according to a report filed with the Vaccine Adverse Event Reporting System (VAERS). "On July 17, my baby passed away," says the report, which first appeared on VAERS August 13, 2021.
One VAERS report describes a five-month-old breastfed infant whose mother received a second dose of Pfizer's vaccine in March. The report says the baby was hospitalized with a diagnosis of Thrombotic Thrombocytopenic Purpura, a rare blood disorder in which blood clots form in small blood vessels throughout the body. The baby died.
Another of these American reported deaths include a 15-year-old boy (VAERS I.D. 1498080) who previously had covid, was diagnosed with cardiomyopathy in May 2021 and died four days after receiving his second dose of Pfizer's vaccine on June 18. It is criminal enough to vaccinate the young but doubly so when nature provides far better immunity than vaccines. Perhaps the most tragic death was of the American Jordan Hayes who had swallowed the government propaganda, called the unvaccinated "idiots and morons" and told others that "I hope none of your family or friends suffer from your complete failings as a functional member of society". He received his second injection on 24th March and died on July 6th following a heart attack and strokes at the age of 33.
One of the few examples of the media eventually reporting deaths from the vaccine was Lisa Shaw a BBC radio presenter for Radio Newcastle. She died at the city's Royal Victoria Infirmary in May, a little more than three weeks after her first dose of the AZ vaccine. The inquest heard that Shaw, 44, had suffered a brain haemorrhage. "She was transferred to the Royal Victoria Infirmary where she received a number of treatments, including cutting away part of her skull to relieve the pressure on her brain, but despite those efforts she died on 21 May.
Another case was the single mother of a 9-year-old girl, Kassidi Kurill, "a happy, healthy, 39-year-old surgical tech who had no reservations about receiving her second covid shot." In fact, she'd been urging her family to get vaccinated, too. But just four days after Kassidi received her second Moderna shot, she died of liver failure. She had no pre-existing health conditions or recent illnesses.
"I personally know 2 culled by the jab and a colleague at work's best friend had a stroke and was in a coma. Now, not long left to live." Troy Deleon"In May this year my brother-in-law had the first dose and in just a few days was having a job breathing. He was taken into Hospital and was apparently FULL of blood clots. He died a few days later and had a post-mortem at Brighton. The Coroner was very concerned because the medical report stated that the vaccine had killed his immune system and he died of a heart attack. He had tested negative before he had the jab." Mike PursgloveA roofer, 50 years old, had the AZ jab, immediately got pains in his legs. Diagnosed blood clots; had to have one of his legs amputated. Career and life ruined.
A lady aged about 30, perfectly healthy. Had a blood test: normal. Then had the AZ vaccine; felt ill. Had another blood test: now has serious thyroid problem.
Such is the litany of death and destruction which the political, media and medical establishments are inexcusably covering up.
by RODNEY ATKINSON