From Senate President Karen Fann,
The date for the audit presentation is next Friday Sept 24th at 1 pm on the Senate floor. Because we have no hearing rooms it will be presented to Chairman Petersen and I and then he can call a formal JUD committee meeting a little later after everyone's had a chance to go thru the report. Gallery will be open to public and we will have designated areas for all the media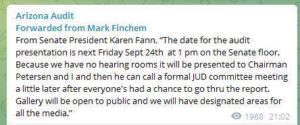 Senator Kelly Townsend
Update. The audit will be released next Friday on the 24th at 1 p.m. in the Senate chambers. The Senate Gallery will be open to the public. I'm not sure how you will go about reserving a seat for that but I do believe the information will be public. This information has been given to the judge in Maricopa County so I don't think it is false, I believe you can rely on this. Be ready to pour over the report.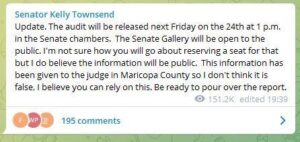 Hanging in the balance is $676m in shared revenue from the state. If the county refuses to comply, it could lose 42% of its budget for the year.
https://twitter.com/jeremyduda/status/1438598548161892388?s=19
Twitter
Jeremy Duda
The Maricopa County supervisors will meet at 4:45pm Friday to discuss the latest Senate subpoena. They can either hand over the routers and splunk logs, as @GeneralBrnovich said they must do,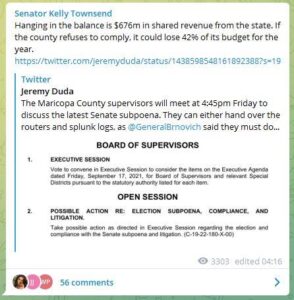 Maricopa County Board of Supervisors is holding a meeting tomorrow, September 17th at 4:45 p.m., to discuss possible action regarding election subpoena, compliance and litigation
Live video feeds will be available on-line at:
www.Maricopa.Gov,
www.Maricopa.Gov/324, or
GotoWebinar.com using webinar ID 937-976-171
To listen by telephone, dial (562) 247-8422, when prompted enter Audio Access code 593-869-463, then # at the prompt for the PIN
Meetings will not be active until the time and date of the meeting. Additional information or instructions will also be detailed on the Clerk of the Board's website, www.Maricopa.Gov/324
Also, MCBOS public meetings are usually streamed on the Maricopa County YouTube channel