Kat and I discuss the recent sex act that was performed at South End's Theme Park, Adventure Land, where men dressed in "slut"clothes performed sex acts in front of young children and families.
Adventure Land who is owned by The Stockdale Group, according to companies house, the current board consists of 3 (I presume brothers) Philip, Marc and James Miller.  All 3 are also directors of various media, leisure investments and restaurants in the Essex area, including, Essex Radio, Southend and Chelmsford Radio, Southend Hospital Charitable Foundation, Chelmsford Radio as well as pubs and investment companies.
The back tracking from the Millers is really incredible, Phillip Miller MBE realised a statement saying
"We humbly apologise to all of our loyal customers for any offence caused.
"There was confusion between us and the act as to what we would allow or not, as it were.
"The grinding act was most definitely a non-starter as we are ostensibly a family park and that is just not family entertainment."
He added: "Rest assured we will not be re-booking this act or participate in any future Pride celebrations.
"It's just not for us. We tried to be inclusive, but it has backfired on us."
The Adventure Land Facebook page sadly does not reflect the chairman's statement.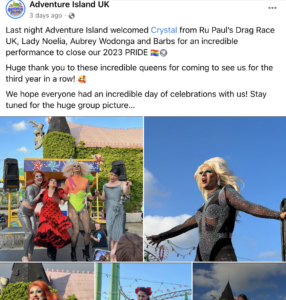 If you would like to share your thoughts, you can visit their Trip Adviser PAGE
Or email them enquiries@stockvale.co.uk
1 comment