Well well what do we have here .  A UK company called Venom Tech who claim to be, global leader for venom research, based out of world-class laboratories at Discovery Park in Kent, UK.
Under their news section, I find this paragraph from the article Sept 2020:
The investment will facilitate team expansion and the acquisition of vital new instrumentation, allowing Venomtech to deliver new and improved venom arrays with more efficiency and in greater depth than was previously possible. Our capacity to operate as a CRO, along with our R&D efforts, will also be greatly enhanced. Our recent discovery of venoms that inhibit the binding of SARS CoV2 to the ACE2 receptor can now be tested in full.
Following on from there, I find this;
Venomtech is collaborating with Charles River Laboratories, to help drug developers explore venom-derived compounds for a wide range of therapeutic targets. This newly formed collaboration will bring together Venomtech's biology expertise and vast venom-derived peptide library, with Charles River's drug development and screening knowhow, providing pharmaceutical manufacturers with a one-stop service to explore this unique natural resource.
And for the cherry on the top the founder of Venomtech is Steve Trimm who spent a decade working as a molecular biologist in drug discovery at Pfizer, focusing extensively on pain therapeutics and developing expertise in the gastrointestinal and respiratory fields, as well as in tissue repair.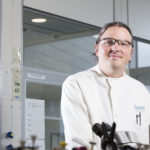 Sources for this article  https://venomtech.co.uk
https://www.news-medical.net/news/20220412/Venomtech-announces-new-drug-development-collaboration-with-Charles-River.aspx